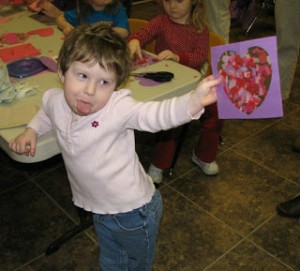 There are times when the need to compartmentalize my life is more difficult that others…when things seems to blur together and demand attention from beyond the borders of their duly designated time for my attention. I've been feeling that way quite a bit over the past week, but this weekend it was especially strong. It was our Little Princess's third birthday. We had a big party planned for Saturday at 2:00. I had to leave the house at 9 to go study, while the rest of the family went to go pick up the cake (ordered weeks ago) and food and then go swimming at the hotel where Partner's brother and his girlfriend were staying since they were visiting for party weekened. (Cool, right?) It's not that I really wanted to do any of those things, but I did want to be a part of the family, enjoying the excitement of my daughter's special day. I did bring balloons home, but they were all but unacknowledged since my partner's brother had arrived moments before with a much more impressive bouquet of Dora balloons. (Boy Wonder still enjoyed them, at least.) It was difficult having my head in my studies when my heart was with my nearly-three-year-old.
The party ended up a huge success and I played primary parent during the party – including performing the much-coveting duty of scooping the backyard so the kids (Birthday Girl, Boy Wonder and their cousins) could go out and play. (Yuck.) Partner did a wonderful job of putting the party together, creating and sending customized invitations, cleaning the house…etc. I did manage to clean the carpet the weekend before, and put up a few streamers on Saturday morning. Still, I know everyone would have appreciated it had I been around more for the preparation. Story of my life, right? At least, once I arrived home at 1:30 on Saturday, the rest of my weekend was devoted to family time (and the memorial reception of an old friend's mom….sad..but still the family was with me).
Still, the theme of compartmentalizing was on my mind this weekend. It just seems that there is never quite enough time to do any of the categories justice…..Family – break that down even more – Partner, Kids. Work, Internship. School…..Let's add another weighing heavily on my mind…Future Work. I am working really hard to create the opportunities and connections now so that I will be employed in a legally-related area by this time next year. Fortunately, out of habit, I know how to focus on one thing at a time, and that really is the only way to get things done, but some times are more difficult than others.